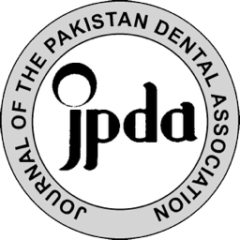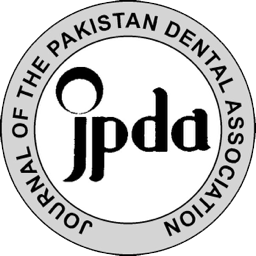 Muhammad Azeem            BDS, FCPS
Arfan Ul Haq                       BDS, FCPS, MDS, MCPS
Samina Qadir                     BDS, MDS
OBJECTIVE:
Orthodontists more often comes across amalgam restoration as a surface to bond brackets. The objective of current study was to compare the mean shear bond strength of orthodontic metal brackets bonded on sandblasted versus diamond bur roughened amalgam surfaces.
METHODOLOGY: Current In-vitro, comparative study was conducted at Orthodontic department of Faisalabad medical university from 17.2.2017 to 17.8.2017. Sixty extracted human maxillary molars were included in the study as per inclusion criteria. They were randomly divided into two groups. In group-A, metal brackets were bonded to amalgam using sandblasting with 50 ?m alumina particles. In group-B, brackets were bonded after roughening the amalgam surface with diamond bur. Shear bond strength (SB) was measured and compared using universal testing machine, in both the groups.
RESULTS: SB of metal brackets bonded with sandblasting (17.05±5.9 MPa) was significantly higher than diamond bur roughened group (11.08±4.0 MPa).
CONCLUSION: Amalgam surface treatment with sandblasting increased the shear bond strength of metal orthodontic brackets significantly higher than the diamond bur roughening.
KEY WORDS: Brackets; Amalgam; Sandblast; Shear bond strength.
HOW TO CITE: Azeem M, Haq AU, Qadir S. Comparison of Surface Conditioning Protocols on The Shear Bond Strength of Metal Brackets Bonded To Amalgam Surface. J Pak Dent Assoc 2018;27(1):32-36.
DOI: https://doi.org/10.25301/JPDA.271.32
Received: 16 October, 2017, Accepted: 06 December, 2017